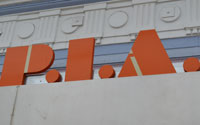 Central: Could This Be the Next Hub For Art?
This area is showing definite promise with regards to street art and muralism, but also shown by the many screen printing and design stores popping up,other forms of art are also being explored. More than anything, this area is demonstrating a real dedication to arts education.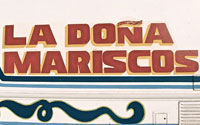 A Little Taste of Home
La Dona Mariscos is a "hole in the wall" Mexican restaurant, run by mother-daughter team Josephine Lugo and Grace Cervantez. The restaurant business has proved both rewarding and troubling for the hardworking ladies, but ultimately has shaped their restaurant into what locals call a "neighborhood gem."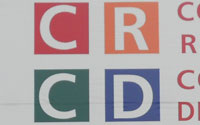 There's No Place Like Home
The Coalition for Responsible Community Development is a neighborhood-based community development, helping provide housing for those who need it the most. Part of their housing program includes developing permanent supportive housing for low-income youths ages 16-24.
Surrounded by warehouses and wholesale businesses, the Los Amigos Shopping Mall brings culture and entertainment to the industrial neighborhood on Jefferson Blvd. Although the mall opened more than 20 years ago, its tradition of hosting local bands on Sundays thrives to this day.
"I've been coming here for 11 years. I come on Sundays because they have live music and I love to dance. It's also nice because I know a lot of people here," said Desmond Holland, 19, who lives just blocks away from the mall.
Holland says he has seen the mall change throughout the years but continues to come every Sunday because he enjoys meeting new friends and listening to live Spanish music, free of charge.
Alfredo Languren, has been the mall's event coordinator since its first show in August of 1991.
"The live music helps bring people to the mall and the intermission between sets helps each business because people will often go shopping while waiting for the next song or band," said Languren, who has yet to have a band cancel a show.
Languren finds bands to perform for the Sunday concert at Leonardo's, the nightclub where he works during the week and only chooses bands he believes will resonate with the mall's patrons.
"The live music represents the culture of the community, it's our tradition here and it's what keeps people coming back every weekend," said Languren.
While the music attracts some customers, a few business owners and employees do not necessarily care for the bands who play.
"The live music isn't really my style but it brings people," said Jairo Hernandez, 17, who, with his father, runs Gabiotos, a shoe shine service.
Hernandez started working with his father a couple years ago to earn extra cash on the weekends."It's a really good bonding experience with my dad, we'll just sit here and talk when we have down time."
Not only does Hernandez have the opportunity to bond with his dad when he comes to work on the weekends, but he also determines what hours he works and receives discounts on clothes and electronics sold at other shops in the mall.
The mall offers a wide variety of services and shops, and just across the courtyard a recent edition to Los Amigos is Inferno Body Piercing, owned by Pavel Peralta.
His experience with the other business owners has not always been easy.
"The other vendors at Los Amigos are about half and half, some are really nice and others don't care. When we first started, other vendors were looking at us because we were the new kids on the block and we offered something that they didn't," said Peralta.
Inferno is the only business that offers custom tattoos and piercings out of the 180 shops and services at Los Amigos. Peralta's is one of the many businesses that faces the outdoor courtyard, making the mall feel more like a street-fair than a shopping center.
The shop at Los Amigos is Peralta's second piercing shop. His first is in the San Fernando Valley and he says the transition from his original location to Los Amigos was not as seamless as he had hoped.
"It was a little stressful coming to this location from the valley. Swap meet rules are hard, we are required to be open on holidays like Christmas and New Year's, it's like I'm working for the mall, not myself," said Peralta.
In addition to creating his schedule around the mall's hours Peralta has also adjusted to a new client base, " The people here are fun but different from what I'm used to in the valley. The customers here at the mall, like simple stuff that's not super intricate."
Peralta employes two other tattoo artists and does the majority of piercings himself.  By keeping his operating costs at a minimum, Peralta hopes to keep Inferno Body Piercings at the Los Amigos Mall because despite the initial difficulties he enjoys the company of his new clientele and the constant foot traffic in the mall.
Behind Inferno are dozens of enclosed shops selling everything from vintage Nintendo 64 game packs, to vitamin supplements, to replica paintings depicting Christ's Last Supper.
Follow the walkway back toward Jefferson Blvd. and old arcade games like Mr. and Ms. PacMan, Marvel's Spiderman, and an ice hockey table fill the patio next to shoppers eating tacos and churros from one of the many take-out restaurants.
Whether it's the variety of services and goods offered at Los Amigos, the live music or the friendliness of the small business owners, the mall has found a way to survive the changing trends and consumer demands for the past 20 years, even if there are still hints of the past hidden throughout the complex, like the 90s arcade games.
"Even though the live music is the main reason I come to Los Amigos, I love that you can just enjoy yourself and make new friends," said Holland as he strutted back to the dance floor.