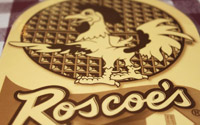 Rich Food, Rich Tradition: Roscoe's Chicken and Waffles
Roscoe's Chicken and Waffles started as an all-night take out restaurant in 1976. In the 35 years since, Roscoe's has become a famous landmark in Southern California with six different locations in the area. Its history is rich, it's chicken and waffles even richer…so click here to read about what makes Roscoe's so special.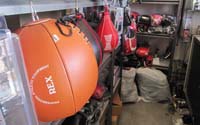 For the Greater Good
Some of the communities in the South Central area are dedicated to improving the community through their services. From a quaint beauty salon to a boxing store to a religious Botanica, all agree on one thing: improving the community starts with the individual.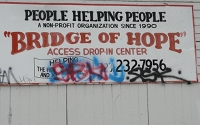 People Helping People: the quest for hope
People Helping People is a non-profit organization that has been helping the homeless community in South Central since 1990. In June, the city of Los Angeles cut the funding previously given to People Helping People, which forces the organization to shut down in the next two months. Whether or not People Helping People will be able to re-build itself is still unknown.
It is a cold, dark night. The streets of South Central Los Angeles are silent, eerie. A young boy wanders alone in search of something, maybe food, maybe shelter, or maybe something more. He walks aimlessly, stepping over the littered ground and around graffiti–covered walls. Then, he stops.
An orange sun highlights the puffs of turquoise clouds stretching across an enormous canvas. The little boy is captivated by the splashes of color and his eyes are drawn to the corner of the mural where two crisp, white doves are painted. A feeling of peace washes over the child. Here he finds a sanctuary; here he finds the Salvation Army.
Each day, the Salvation Army's Siemon Family Youth and Community Center in South Central Los Angeles is a sanctuary for more than 200 individuals in need, over half of whom are children. Partnered with the Cornerstone Preparatory Charter School, the Salvation Army makes an effort to reach out to students, and bring spirituality into their lives.
As a partner of the Salvation Army, Cornerstone Prep holds its classes within the same building, on the 7600 block of South Central Avenue. Many students stay after school to participate in various programs offered through the Salvation Army's youth organization, regardless of their own religious beliefs.
Youth program director Andre Patterson is one of the Salvation Army's soldiers, or active service members. He creates new activities for the children to participate in, and works with them on a daily basis.
"This is a really bad area. I want to do everything in my power to keep these kids off the streets," said Patterson.
"When the kids are done with school, most of their parents are still at work. Our youth program helps keep them out of trouble."
Children attending Cornerstone Prep come from all different backgrounds and beliefs, but after participating in the Salvation Army's modernized youth programs, many are inspired to join one of the more spiritually based groups the center has to offer, such as the bible study group called IROC, or "I Rely on Christ," said Salvation Army Executive Director Mortimer Jones.
"A lot of the school children come to me asking to talk to their parents about joining Sunday school or one of the other religious organizations we offer here," said Salvation Army soldier and receptionist, Dora Lopez.
As part of the Evangelical body, the Salvation Army creates an awareness of Christ, and uses religion as a method of healing for those who are lost, without forcing religion on them, said Jones.
One young child from the Prep School, a constant troublemaker who always ended up in the principal's office or the back seat of a squad car, had no interest in God or religion, said Jones.
"Then, one day while we were praying, the boy broke into tears. We found out that he didn't know where his father was and he was living in an abusive household. We reached out to him and prayed for him immediately," said Jones.
The boy started participating in religious groups and coming to the Salvation Army's soldiers for help. He saved up money and bought his own bible to read, said Jones.
Due to their success, the youth programs are rapidly expanding. The Salvation Army works hard to accommodate everyone, but help within the community is limited.
Due to the bad neighborhood, the South Central Salvation Army struggles to find volunteers, said Patterson.
The Salvation Army has made several attempts to reach out to local churches for help, with no success.
"We've tried to connect with the churches around here, but they padlock their gates during the week because it's such a dangerous community. They're only open for services; it's that bad," said Patterson.
The soldiers who work at the facility fight hard to make a difference in the community, and, although times can be tough, the success stories of life–changing experiences act as inspiration to continue the war for spirituality, said Jones.
South Central's Salvation Army uses the resources they have to help a community in need, and will continue to reach out to children in their youth programs in hopes of paving the path for a brighter future, said Jones.