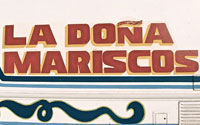 A Little Taste of Home
La Dona Mariscos is a "hole in the wall" Mexican restaurant located in Los Angeles that has been run by mother-daughter team Josephine Lugo and Grace Cervantez for the past 23 years. The restaurant business has proved both rewarding and troubling for the hardworking ladies, but ultimately has shaped their restaurant into what locals call a "neighborhood gem."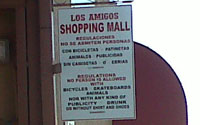 Los Amigos Shopping Mall Offers Friendship, Fun and a Family Experience
For over twenty years Los Amigos Shopping Mall has embraced cultural and ethnic diversity. The outdoor mall is home to over 100 shops and restaurants catering to the South Los Angeles community. The shops range from a tattoo parlor, to religious gift shops selling framed light-up Last Supper paintings. The mall has been able to endure tough economic times due to the variety of shops and services it provides.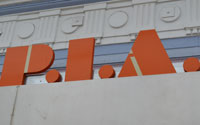 Could This Be the Next Hub For Art?
This area is showing definite promise with regards to street art and muralism, but also shown by the many screen printing and design stores popping up, other forms of art are also being explored. More than anything, this area is demonstrating a real dedication to arts education, not only in schools, but also through other venues like the Papillion Institute of Art and the St. Francis Center.
If it takes a village to raise a child one can only assume that if the "village" or in modern-day terms, community, is lacking then so will the child. This is creating a never-ending cycle in many communities around the nation. Typically poverty-stricken and underserved communities are finding it harder and harder to provide their youth with the basic services needed to live a prosperous life such as education and housing.
"This isn't the type of neighborhood you want to raise your children in," said Syreeta Hall, a mother of two living on Grand Street. "The schools here are so bad."
This is where organizations like the Coalition for Responsible Community Development steps in. CRCD is a neighborhood based-community development corporation in the Vernon-Central neighborhood of South Los Angeles. Their mission statement is to better sustain, coordinate, and improve local planning, development, and community services that address the needs of low-income residents and small businesses. In a neighborhood with 20.7 percent unemployment rate and 55 gangs the need this neighborhood has for CRCD and their services has become quite clear.
"It's a great organization," explained University of Southern California graduate student and intern at CRCD John Roberson. "We're all about empowering the community."
And empowering they do, with their housing development program CRCD is able to provide permanent supportive housing for extremely low-income youth, with their target being the 16-24 age group.
"I owe them so much thanks to them [CRCD] for getting me to where I am now," said Erica Taylor, a 20-year-old tenant in the newly refurbished 36th street apartments. "They've been there for me every time I slipped up."
For the most part, CRCD's housing development program consists of renovating old vacant lots for low-income residents.
Their most recent project, the 36th Street apartments just had their opening ribbon cutting ceremony Thursday morning. The project led to the creation of 10 new units of affordable housing.
Their next project, the restoration of the historic Dunbar Hotel breaks ground next week.
The restoration is expected to produce over 80 housing units for seniors and low-income families.
"It's just amazing to see the impact we're having in this community," said Roberson. "I'm studying public policy and I'm seeing the theories and models we talk about being implemented in real life."
Since starting in 2005, CRCD has been able to create quite an extensive list of accomplishments.
In 2010 alone they were able to create over 100 jobs for young adults, remove over 6 million square feet of graffiti, and create a new high school, CRCD Academy, a school serving people aged 16-24 providing an expedited path to a high school diploma.
"We're just focused on giving as much back to the community as possible," said Grant Sunoo, Director of Real Estate and Economic Development.
CRCD has found many ways other than just providing affordable housing to help out their community. One of these includes their neighborhood beautification program.
The City of Los Angeles has a contract with CRCD to provide such beautification services like graffiti removal, bulky item pick-up and alley clean-ups. In 2010, this contract led to the creation of 20 new transitional jobs and over 1500 tons of bulky items being removed.
"They're not only making the neighborhood look better but also helping us feel better about where we live," said Martha Rodriguez a resident on 36th Street.
What makes CRCD so successful is their willingness to combine efforts with other organizations.
In order to help further their education initiative CRCD partnered up with the South Los Angeles branch of YouthBuild a program that provides young people with a chance to earn their GEDs or high school diplomas while at the same time learning job skills such as construction training.
Members of YouthBuild help build homes for CRCD and in some cases end up living in the same homes that they helped build.
"It's all full circle," explained Sunoo.
With CRCD already planning new works for the future the Vernon-Central neighborhood has a lot to look forward to.