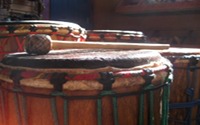 Mariachi Music Strikes a Chord in Mariachi Bandido
Mariachi Bandido, a Mexican-American mariachi group, plays all over the Los Angeles area at weddings, anniversaries and quinceaneras in the Florence-Graham area of South Central Los Angeles. Each member has a unique story about how they fell in love with mariachi. Some grew up with it, while some had never even heard of it. They also divulge some of their favorite traditional songs to play.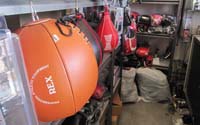 For the Greater Good
Some of the communities in the South Central area are dedicated to improving the community through their services. From a quaint beauty salon to a boxing store, all agree on one thing: improving the community starts with the individual.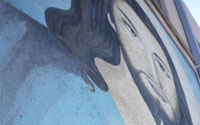 Rallying the Troops: An army bringing spiritual salvation
The Salvation Army's Youth and Community Center on South Central Avenue in Los Angeles is a spiritual sanctuary for those who are looking for guidance through Christ. Soldiers come together in the name of God to give back to the community through volunteerism, following their pastor, or "officer." The center focuses its service on the children and families within the community, providing them a safe haven where they can find proximity to God.
By Nick Berman
Opening in April 1975, Roscoe's House of Chicken and Waffles began serving their culinary combination to Angelenos at their first restaurant, located in Hollywood at the corner of Sunset and Gower. In the 36 years since, Roscoe's has grown to become a world-famous restaurant chain with six different locations in the Los Angeles area that feature a truly one-of-a-kind savory experience.
Roscoe's was established on the foundation of chicken and waffles after the owner tried the combination at a restaurant in Harlem, N.Y. in the early 1970's, according to Roscoe's management. A lack of late-night food options around the LA area combined with the owner's desire to bring this salty-sweet dish to the West Coast prompted the first Roscoe's to open in Hollywood, where they began crafting what has emerged to be their secret family recipe.
In addition to keeping their recipe a secret, Roscoe's believes that they can maintain the quality of their food and the loyalty of their customers better by keeping information about their management private. When asked about the creation of Roscoe's and who its founders are, JJ Keno, a member of Roscoe's management, responded by saying that the information was not at all important. "Most successful businesses that go on forever, their founder and president may die off, but the product continues," said Keno, "So that's why you focus on the quality of the food and the quality of the service." And that's just what Roscoe's did.
Roscoe's has done very little to change its menu and recipes since opening 36 years ago. Perhaps due to this consistency, the chain continues to grow in popularity, maintaining the same delicious food and great service through the better part of four decades. By continuously providing customers with the same seasoned, skillet-fried chicken and sweet iron-pressed waffles they've been serving up since 1975, Roscoe's has become an LA landmark and has created a demand considered by many to be unparalleled in the restaurant business.
By creating a strong brand name, with consistent food and service, and a lively 70's atmosphere, Roscoe's has been able to successfully open five other locations in the LA area. After opening the Roscoe's location in Hollywood in 1975, Roscoe's opened its second restaurant in South Central on the corner of Manchester Boulevard and Main Street in 1990. After seeing success at the new location, Roscoe's did not hesitate to establish a third restaurant on Pico Boulevard and La Brea Avenue in 1991.
As the brand became more popular and demand for the unique chicken and waffle combination increased around the Los Angeles area, new Roscoe's were springing up all over town. Their fourth location opened in Pasadena in 1994, followed by a fifth restaurant in Long Beach in 2001, before finally opening their most recent store in Inglewood, near Los Angeles International Airport, in 2011.
When developing their menu, Roscoe's House of Chicken and Waffles chose to focus on perfecting their chicken and waffle recipes rather than opting for a more diverse selection of mediocre items. Roscoe's menu features numerous chicken and waffle combinations, many of which are uniquely named after celebrities, employees, and even customers. Roscoe's has made a tradition out of naming dishes after the person who created them or after the person who orders them most frequently. For example, the Country Boy (the famous #9 with three wings and a waffle) was named after Natalie Cole, while the Big Momma's Special was named after an employee at the Pico Boulevard and La Brea Avenue location.
In addition to their signature chicken and waffle combination, Roscoe's features several soul-food dishes such as greens, mac and cheese, hot-water cornbread, and red beans and rice. Roscoe's combination of great food and a dynamic atmosphere has attracted quite a diverse crowd to visit the historic chain.
From Larry King to Snoop Dogg, Roscoe's House of Chicken and Waffles takes pride in its ability to attract celebrities to eat at its restaurants. Roscoe's has even attracted several presidents, including a surprise-stop from President Obama at the Pico and La Brea location in October 2011.
Roscoe's has never publicly advertised- and why would they need to?, The amount of publicity they receive through word-of-mouth is enough to attract visitors from all over and keep their restaurants busy. Customers drive from all parts of California to eat Roscoe's, while many tourists make sure to stop by one of the restaurants to get a taste of their famous chicken and waffles combination.
Although Roscoe's management has expressed interest in expanding further, listing cities like San Diego and Las Vegas as possible locations for a new restaurant, it appears Roscoe's isn't ready quite yet to establish a seventh location. Until then, people will have to fulfill their crispy craving by stopping at one of the six Los Angeles locations to truly learn what the rich food and rich tradition is all about.