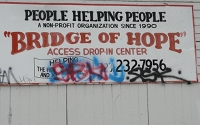 People Helping People: the Quest for Hope
People Helping People is a non-profit organization that has been helping the homeless community in South Central since 1990. In June, the city of Los Angeles cut the funding previously given to People Helping People, which forces the organization to shut down in the next two months. Whether or not People Helping People will be able to re-build itself is still unknown.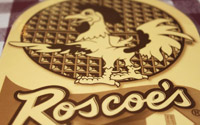 Rich Food, Rich Tradition: Roscoe's Chicken and Waffles
Roscoe's Chicken and Waffles started as an all-night take out restaurant in 1976. In the 35 years since, Roscoe's has become a famous landmark in Southern California with six different locations in the area. Its history is rich, it's chicken and waffles even richer…so click here to read about what makes Roscoe's so special.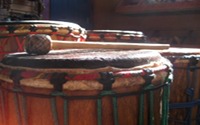 Mariachi Music Strikes a Chord in Mariachi Bandido
Mariachi Bandido, a Mexican-American mariachi group, plays all over the Los Angeles area at weddings, anniversaries and quinceaneras in the Florence-Graham area of South Central Los Angeles. Each member has a unique story about how they fell in love with mariachi. Some grew up with it, while some had never even heard of it. They also divulge some of their favorite traditional songs to play.
By Kira Brekke
Located at 7326 S. Main Street in Los Angeles, 50-year-old Sonia Gastelum opened her second Botanic Orula a little over a year ago to a welcoming community. The Botanica is based on her religion Santeria de Orula, which combines African and Cuban tradition into one. Her amply decorated store is filled with religious merchandise, including: rosaries, oils, incense, beads, soaps, clothing, and more. Most noticeably displayed, however, is her grand selection of aromatic candles.
"My favorite candle is the white one. In the religion, my saint, it's name is Owaka La," Sonia said. "In Santeria, we believe in saints and we believe in spirits."
Some may be wondering what a Botanica is exactly. Sonia said it is basically a religious store that is meant to fuel a person's spirituality and well-being.
"I have people that come in here and say. 'I'm having a problem with my luck because I'm not finding a job' or 'I'm not happy and I feel sick' or 'I'm hearing things,' so then I help them and tell them which candles are good for them," Sonia said.
Sonia opened her first Botanica 10 years ago on Long Beach Blvd in Linwood, California, which she left to her son over a year ago to open Botanica #2. Since the opening, Sonia said the community has been welcoming and that her business is fine despite the sluggish economy.
"Right now the business is kind of slow, like I'm sure everywhere is. But I'm surviving, I'm paying my rent so thank God everything's been going okay," Sonia said.
On average, Sonia said she sees 20 customers per day and many of them come in asking for her guidance. She said she has become somewhat of a mother figure to a lot of the teens in the neighborhood.
"A lot of youngsters come in, some girls that I've barely met too who are gangsters and they come in trying to find themselves," Sonia said. "They start asking me 'what do you see in me' and I talk to them and tell them about God and that everybody has a chance no matter what culture, or nationality; they can do something with their lives."
Sonia handcrafts much of her merchandise, including the skirts and beads found hanging on the walls, as she sits at her small desk behind the store counter. Every two weeks, however, Sonia brings in new products from around the world that is either shipped to her, or that she personally finds.
"I have traveled a lot, a lot a lot. My merchandise is from all over the world: Central America, Peru, Venezeula."
Sonia said that she began practicing her religion when she was 15 years old, and has since become a high priest of Santeria. Her two-story Botanica also gives her enough room to host ritual spiritual ceremonies two or three times a month, which are usually well attended with 15 to 20 people.
"At the ceremonies, people help themselves with health and love," Sonia said.
The ceremonies revolve around people helping themselves with spirituality, fortune telling, and additionally, the sacrificing of animals, according to Sonia.
"The reason we sacrifice animals is to save a person from shedding their own blood. We do the sacrifice but in a modern way. We don't make the animals suffer and you can eat the chickens. We buy all the meat at the stores," Sonia said.
While the sacrificing of animals may not be as widely practiced as it was many centuries ago, Sonia said it is perfectly legal.
"Our religion is allowed and it's based on the constitutional rights that we have; we're permitted to sacrifice as long as we don't throw our animals in the streets. No, no, we can't do that."
Not only are her ceremonies usually well-attended, but her store is as well, which Sonia attributes to both her personality and her low prices. She said that her candles are around $2.50 and the most expensive candles are $6.99, which already include all the oils and stones needed.
"I think people appreciate my prices," Sonia said. "I consult with the taro cards and Spanish cards to set my prices; I don't look anywhere else."
The first week Sonia opened her Botanica, there was a shooting right outside her front window. She said, however, that thankfully nobody was hurt and on a day-to-day basis, she feels safe. She attributes this to her faith and strong demeanor.
"People see [my strength] and they get scared," Sonia said. "Now, the punks pass by, and they say 'Are you okay Sonia?' and I tell them yes."
A day at work is never a bad day for Sonia, who hopes to have the store for many years to come.
"For me, it's like my second home here because I like to be here, I relax and a lot of people come in and out," Sonia said. "I'd like to be here 20 years."
To see inside her Botanica and to listen to the music of Santeria, click the play button on the slideshow below.