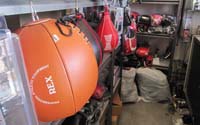 Golden boxing
Alejandro has been working at Golden Boxing for three months now and through his job, he is dedicated to helping the community better themselves.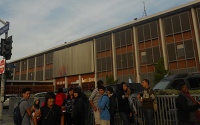 Variations in Education
Fremont High School and South Region High School #2 may only be a few blocks away but they are worlds apart. The students at Fremont and dealing with no supplies and a rundown campus while SRHS #2 have new facilities and will be getting iPads next year. These two schools are both in LAUSD but receive different funding.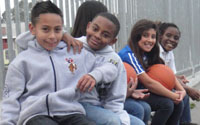 Five people, five stories: history through their eyes
From its incorporation in 1850 to the riots in 1992, Los Angeles is a city full of rich history. But in South LA, an area that has faced neglect by the media, much may not be documented about the area's eventful past. Word-of-mouth is one of the only methods of preserving history in the community. This story tells the history of the area south of Slauson through five community members.
By Jessica Zech
Many kids living in South Central Los Angeles do not have a safe place to go or an authority figure protecting them from the inner city's dangers. The lucky exceptions have Mount Carmel Park, where about 100 kids come every day to play sports, get a snack and spend time with a dedicated staff who has created a loving yet disciplined environment.
"We are a place to go, [the kids] feel safe around us. They come and BS with us like we're their own family. They have the tight-knit feeling, they are so comfortable around us," said Cesar Ramirez, 39, who is the director of Mount Carmel. He applied for the job on a whim 11 years ago after injuring himself playing minor league baseball for the Yankees.
A lot of the kids go to school near Mount Carmel and have been coming to the park and recreation center since they were little. Charles Brown, 13, started coming to Mount Carmel's afterschool program when he was four and used to go to 68th Street Elementary School a few blocks away. His test scores were very high so he transferred to Westside Leadership Magnet School in Marina Del Ray.
"I like the people and the way they treat us. Cesar takes care of my sisters and me when we need something. I wanted to stay because I know all the people, I grew up with them," said Brown, who still lives in the neighborhood, about continuing to come to Mount Carmel even though he goes to school much farther way.
In the family-like atmosphere, kids let their guard down because they can forget about pressure to join gangs, do drugs or problems at home.
"Some of the kids need to be softened because they have hard lives," said Denise Mosley, 62, a part-time recreation assistant who has worked at the park for 10 years. "They come here and they do not have to be hard. They don't have to be afraid here."
The Playboy Gangster Crypts have claimed the park, according to Ramirez, but he has tried to build a good rapport to avoid conflict and violence.
"It's hard to keep the kids away," said Ramirez because many of them have friends or family who are gang members.
Although Ramirez said he has the gang presence under control, kids learn valuable lessons from the staff that absent parents are not there to teach them.
"We absolutely make a difference, 100 percent. We stop kids from fighting, we stop them from getting into stuff, we give them discipline. We teach them this is not right, you don't have to do this, this person is from the same neighborhood," said Ramirez. "We're just like teachers, we just don't teach them algebra. It's definitely necessary."
Mychal Lynch, 29, a recreation coordinator who has worked at Mount Carmel for about two and a half years, said the center is a second home for the kids.
"In some instances we are parents. Pretty much every day I feel like I am parenting," said Lynch, who thinks not even 2 percent of parents are involved with their kids attending Mount Carmel. "When we take them to play other parks, like in the valley, I try to teach them how to act in public, to be respectful and listen, to avoid an inner city stereotype."
And it seems the staff's efforts have made an impact on the kids.
"I want to be a policeman so I can catch all the bad people who dishonor our community," said Geramiah Hale, 10, who lives across the street from Mount Carmel and has been going there almost every day for two years.
The staff, most of which played college level athletics, believes playing sports can also teach kids important lessons.
"Team things are great for youngsters because the team atmosphere teaches them to trust one another and they are better socially, they really start to open up," said Lynch, who played basketball at San Francisco State University. He also said working at Mount Carmel is his dream job because he loves sports and kids.
The park's other recreation coordinator, Deshay Scott, 35, agrees sports build character, and Queenie Brown, 20, who grew up going to Mount Carmel and has volunteered for seven years, said, "teams feel like another family to [her]."
To Ramirez, Mount Carmel is more than a building, field and jungle gym, it is at the heart of the community.
"I think we are the hub of the community, I think we are where the action is, we are where the rumors start or where rumors go to die," Ramirez said. "We are definitely a hub, we're right in the middle of everything. Everything begins and ends at the park in some shape or form."