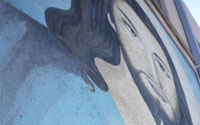 Rallying the Troops: An army bringing spiritual salvation
The Salvation Army's Youth and Community Center on South Central Avenue in Los Angeles is a spiritual sanctuary for those who are looking for guidance through Christ. Soldiers come together in the name of God to give back to the community through volunteerism, following their pastor, or "officer."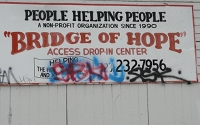 People Helping People: the quest for hope
People Helping People is a non-profit organization that has been helping the homeless community in South Central since 1990. In June, the city of Los Angeles cut the funding previously given to People Helping People, which forces the organization to shut down in the next two months. Whether or not People Helping People will be able to re-build itself is still unknown.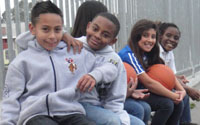 The Kids of L.A.
The kids that attend Los Angeles elementary schools are our future. Take a look at Aspire, an L.A. charter school or LA's BEST, an after school program. Aspire and LA's BEST, both focus on enriching young students lives.
The economy hit Los Angeles hard, but in no place harder than South LA. With the community in need of charity and help, residents are finding it harder than before to get that assistance. In recent years, the local neighborhood organizations that they turned began to disappear, and more bureaucratic, municipal institutions took their place.
The Central Avenue neighborhood in South LA, due to a change in its demographics to a Latino majority and economic woes, is seeing established local organizations fall apart or dissolve. These block groups and church-based charities were bastions on which residents could turn to for after-school programs, donations and help when in need.
What's emerged instead is a greater presence from the City of Los Angeles. Municipal organizations and city-wide programs now take on a larger responsibility and service to the community.
The Los Angeles Police Department's 77th Street Community Police Station, which used to be focused simply on stopping crime, is now partnering with local schools and sending out officers to educate neighborhood residents in order to prevent crimes from happening. Some schools, such as John C. Freemont High School, are receiving additional funding from the city to create afterschool programs and serve as sort of community hubs.
Many charity and community organizations in South LA were created during the 1970s and 1980s in response to a rise in drug abuse and gang violence.
"There are a lot of different community betterment organizations and nonprofits that have been based here for a while for a couple decades," said Carla Maria Guerrero, communications assistant for the Community Coalition, a South LA-wide group that organizes a number of neighborhood programs. "Conditions that you see now have been here for a while, only exacerbated by the current crisis. A lot of community groups were established at a point when things were really critical. A lot were created to avoid bringing in police force."
Now, due to the neighborhood's changing demographics and youth bulge, those that were around to help the community then are not active in the area.
"The older generation, due to them no longer being a factor, these people may not have got the message to the younger generation of the importance of nonprofits," said Stacy Hill-Williams, communication and development director for the Brotherhood Crusade, a local organization founded in 1968.
"Block clubs used to be how old people kept busy with life," Senior Lead Officer Michael Shea said. "They don't have that any more. It's still a community in transition."
Churches, which are heavily scattered around the neighborhood, use to be major community organizers. However, many shut their door and closed, while others are seeing their partners in the community grow distant.
"People have pulled away from churches, and don't really look to them for guidance," said Hill-Williams. "You used to have a relationship with your community nonprofits and churches that you don't have any more. These churches have gone away, there not there anymore. In your underserved communities, churches used to be very powerful and prevalent."
Along with a lack of trust, another prevalent reason for the decline in neighborhood groups is that, due to the economy, those who would help those in need are now struggling themselves.
"Because of the crisis there's a lot more on need, and you have a lot of different groups trying to step up and fill that vacuum, a lot of them can't do that without the resources or funding," Guerrero said.
"There's not a lot of money to be active," Shea said.
But even with the greater presence of non-local organizations and programs, financial problems continue. City-wide charity funds and city government groups offer greater resources, but their increased efforts are creating its own strain.
"LA has the largest group of non-profits in one city than anywhere else. Imagine that that pool of money is reduced significantly, but demand has tripled, and still have to be spread to all the nonprofits," said Mortimer Jones, executive director of the Community Center. "We're definitely feeling the pinch for it."
But even with the increased city presence and funds, South Los Angeles is still a community in transition, and is still working to create its own institutions. For many, those local groups are preferable to a faceless municipal government agency.
"In the long run, people that I've seen, they look more for help from smaller organizations that they'll able to see all the time," said Hill-Williams. "Sometimes it's harder to get through to the larger organizations."