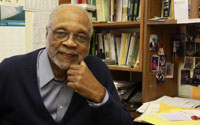 Abdul Karim Hasan is the Sr. Imam at the Masjid Bilal Islamic Center. An Imam is the religious and community leader for Muslim organizations. Hasan oversees all aspects of the Center and makes sure they are in accordance with Islamic law.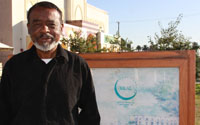 Ameen Bilal hosts The Family Life Programs at the Masjid Bilal Islamic Center on the first Sunday of every month. The programs discuss problems in the community and teach about character.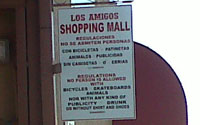 Los Amigos Shopping Mall
For over 20 years Los Amigos Shopping Mall has embraced cultural and ethnic diversity. The outdoor mall is home to over 100 shops and restaurants catering to the South Los Angeles community. The shops range from a tattoo parlor, to religious gift shops selling framed light-up Last Supper paintings. The mall has been able to endure tough economic times due to the variety of shops and services it provides.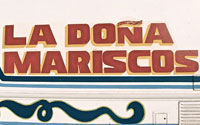 A Little Taste of Home
La Dona Mariscos is a "hole in the wall" Mexican restaurant located in Los Angeles that has been run by mother-daughter team Josephine Lugo and Grace Cervantez for the past 23 years. The restaurant business has proved both rewarding and troubling for the hardworking ladies, but ultimately has shaped their restaurant into what locals call a "neighborhood gem."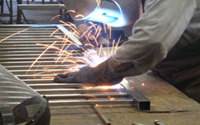 Recession Steals From SoCal Security Products Giant
Fewer fences are going up. Fewer cameras are being installed. And forget window guards. That's bad news for Jeffrey Marks and a nearly 45-year-old family-owned business. HIMCO Security Products has been forced to downsize during the recession and lease a majority of its huge facility to companies in the reborn sewing industry.
On the corner of Martin Luther King Jr. Boulevard and South Central Avenue sits the Masjid Bilal Islamic Center. It is one of three outposts of the greater Islamic organization that was established in Los Angeles in the 1950s. The Masjid Bilal Islamic Center has been at its current location since 1973 and was created as a space where members can come to engage with their faith. The center is now a hub for religious and community involvement for the growing number of Muslims in South Los Angeles.
As head of the Imam Masjid Bilal Islamic Center, Abdul Karim Hasan says that the space provides many other functions for its members than a traditional Muslim mosque. The center has five daily prayer services, as is the Muslim custom, as well as classes in Islamic studies and reading the Quran. Beyond being a religious space, the center is a place for weddings, community meetings, social events and family life programs. All of these added features allow it to function as a gathering space where all are welcome participate, pray or just listen and learn.
Inclusivity is a main feature of Masjid Bilal Islamic Center, says Hasan. Although most of its members are African American, the center is hospitable to people of other ethnicities and those who are of other faiths or non-religious groups. The center does not affiliate with any Muslim groups like Shiite or Sunni and Hasan says, "if you believe in God, you are welcome."
The five pillars of Islam: faith, prayer, charity, fasting and pilgrimage are very similar to the core elements of many other major religions. The belief of the center is that religion is displayed through your actions, speech, and how you treat other people, not necessarily by what religious group you identify with.
To encourage its members to treat others with respect and kindness, the center participates in many community engagement and outreach programs. Many of its large charitable events take place during the month of Ramadan when Muslims fast during daylight hours and partake in more charitable activities. The center's humanitarian day of service happens during this time where the members provide food for the hungry and donated clothes are passed out to those in need.
Year-round the center promotes events that are in accordance with Islamic law and benefit humanity. For example, member Ameen Bilal runs the family life programs that happen on the first Sunday of every month at the center. Bilal, a retired Los Angeles County Parks and Recreation employee, puts on the talks that discuss problems of the community. After raising his now 16-year-old son alone, he is very sympathetic to the plight of single mother's and dedicates the programs to the liberation of women.
Bilal has hosted talks on a myriad of subjects including marriage, single parenting and the impact slavery still has on the African American population. After volunteering in prisons for 28 years Bilal understands how important a strong family life is in order for children to grow up to become successful members of the community. Bilal explains that one teaching of Islam is that people are responsible for their own actions and for how they treat others, a message that he reiterates during his own programs. He believes that "if we can connect with the good inside people it is possible to change their behavior and in turn create positive change for their families and children."
Many of Bilal's beliefs about the importance of raising children in a nurturing environment are echoed by the Islamic center. Taking this mission to heart, the center spearheaded the creation of an LA Unified charter elementary school on its neighboring property. Religion is not taught at The Center for Advanced Learning school and all races and religious affiliations of children are welcome to attend. There is an emphasis at the school on creating a peaceful environment for the students to thrive in and develop skills to become good human beings. The school is five years old and is already the third best elementary school in the district, according to Hasan. Projects like the development of The Center for Advanced Learning as well as hosting family life programs are key examples of the Islamic center being more than just a house of prayer for its members.